The challenge
Our client is a leading telecommunications and information services provider sitting right at the heart of the global digital transformation. It has over 31,000 employees, an international presence in 15 countries and a $68bn market capitalisation. With a need for considerable internal transformation, the challenge was to build a culture that could thrive in a digital age, whilst holding true to past values that had made them a respected household name. The client had already developed its strategy and now needed to align the organisation behind it.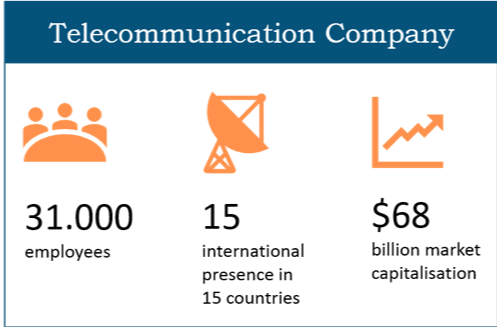 The approach
Our approach work focussed on three streams: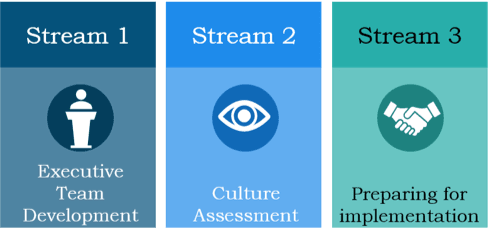 Stream 1: Executive Team Development
Our CEO, Carolyn Taylor, was appointed as the Executive Team's coach over a two-year period. After observing the team in a number of scenarios, we concluded they were functioning well, in terms of how they related to each other, but that they were much less aware of the impact they had on the broader organisation. Walking the Talk ran a series of workshops with the Executive Team over an 18-month period, systematically examining their personal behaviour, as well as symbolic decisions and core processes, in order to better align these to the new values of the organisation. We utilised the Human Synergistic Leadership Impact tool, together with 1-on-1 coaching, to support each executive in role modelling the values, as well as mentoring others to do the same.
Stream 2: Culture Assessment
An assessment of the leadership culture was carried out using our Discover deep dive methodology.
Through the use of this tool, we were able to pinpoint the key changes that needed to occur in order for the telecommunications company to compete successfully in the digital revolution.
The company had already made considerable progress towards becoming a more customer-centric and team-oriented organisation, but there remained a "tangled web of beliefs and behaviour patterns," which was inhibiting speed and agility. The findings from this assessment prompted and informed a process to build a new set of values for the organisation.
These reflected the essential qualities required to thrive in the future. These, together with a newly crafted purpose, set the scene for the executives' challenge to become a more values-led organisation.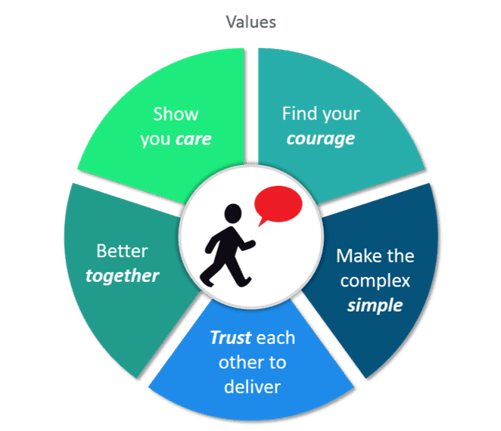 Stream 3: Preparing for Implementation
Walking the Talk partnered with a global consulting firm to put in place a process to implement the company's purpose and values. This 6-month project included:
Participating in the design of two annual conferences for senior leaders where the values and purpose could be introduced. This included coaching speakers, writing presenter notes and designing the sections dedicated to values.


Training 150 HR professionals using Walking the Talk's education programs to build internal capability and support the culture change. This included reaching a common understanding of what culture is, locating the levers at HR's disposal to facilitate its change, and aligning culture efforts across all business units.


Building plans for rolling out the purpose and values across the organisation, including the design of communication and feedback mechanisms, as well as training internal culture champions.
The results
Executive Team have high trust in each other, with openness to further improvement. There is greater awareness of the length and breadth of their shadow as leaders, and a desire to use this impact to benefit the organisation.


Executive Team meetings have become more effective in relation to use of time and quality of debate.


A number of quick win culture change initiatives have been implemented, including a significant change to the expense and travel policies.


Values have been communicated to all employees, with very favourable feedback.


A leadership program has now commenced based on the competencies required to lead the target culture.


Our client topped the Hay Group's 'Most Respected Companies for 2014' in its geography.