The challenge
"Transforming organisational culture requires a significant resource investment, in both time and money."
Nieves Murray Chief Executive
IRT Group is one of Australia's largest community-owned providers of seniors' lifestyle & care.
IRT Group was established in Wollongong in 1969 by Dr Max Diment, an Honorary Medical Superintendent at Bulli Hospital. Dr Diment had identified a need to stem the flow of frail elderly people into hospital by providing them with better options in housing and care.
This pioneering spirit drove IRT to be one of the sector's most innovative providers. It built Wollongong's first apartment-style retirement village in 1970 and piloted what we now know as home care in the 1980s.
A culture of innovation and questioning the status quo led IRT to new heights. It expanded throughout the Illawarra and NSW South Coast, into Sydney, the ACT and South East Queensland.
"We became so focused on growing our organisation that we lost touch with our roots, our pioneering spirit."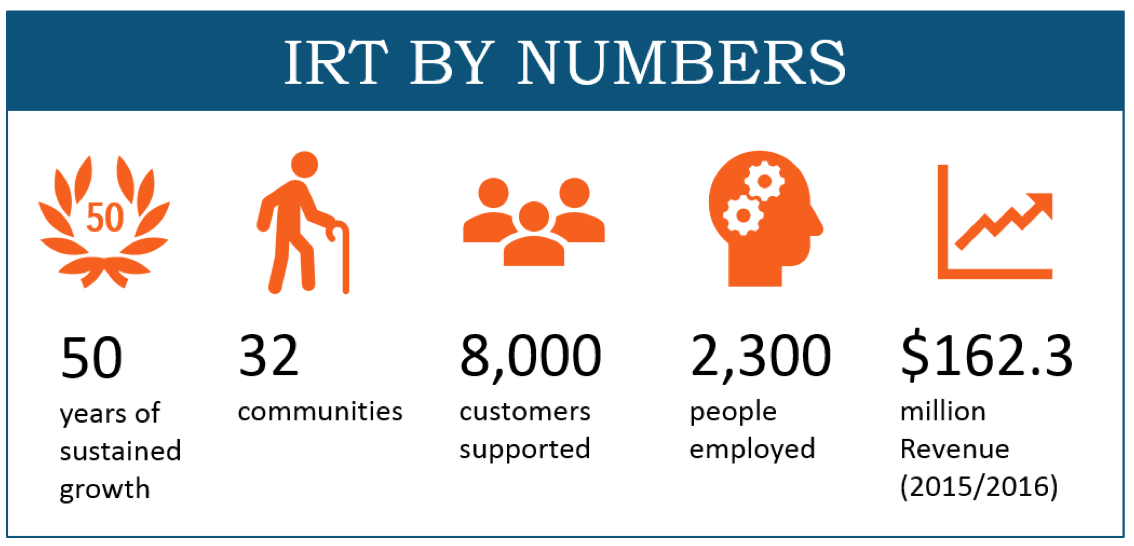 After almost 50 years of sustained growth, IRT now operates from 32 communities, supporting 8,000 customers and employing over 2,300 people. In 2015/16 IRT increased its asset base to $1.06 billion and grew its revenue to $162.3 million.
There's no doubt IRT is a very successful organisation. However, current Chief Executive, Nieves Murray says this success has come at a cost of organisational "pioneering spirit."
"Our current and future challenges provide us with an opportunity to rediscover those roots. To reconnect with what makes IRT great, and that is having the courage and conviction to invest in new ideas to truly improve the lives of older Australians," Ms. Murray said.
The current and future challenges of IRT include:
Changing customer needs and expectations
Baby Boomers are demanding more choices and greater control in where they live and how they're supported as they age.
Market deregulation
The Government has stopped funding providers to deliver home care services. Government funding is now provided directly to the consumer, who can choose from a greater variety of providers. It's called 'Consumer Directed Care' and it's being piloted in residential aged care too.
Less government funding
More Australians than ever require government-funded aged care. As our population ages, the Government is acting to mitigate the ever-rising cost of care by restricting provider access to funding.
In 2016 Ansell Strategic found that 25% of not-for-profit aged care providers were operating at a loss and Government funding cuts in Budget 2016 would further reduce provider revenue by 11%.
"This very challenging fiscal context, combined with changing customer demands and market deregulation will sound the death knell for many providers. We're determined not to be one of them," Ms. Murray said.
"The Culture stream was a priority because we understood we needed our employees to join us on our journey of transformation."
Nieves Murray, Chief Executive
The approach
"Through a consultative process with Walking the Talk, IRT determined it needed to reconnect with its founding philosophy by creating a culture that was more customer centric and innovative. The organisation discovered its 'Northern Star' — to create the ecosystem one of them," Ms. Murray said.
To reach it's 'Northern Star' IRT charted its course on a Transformation Map. The map includes five streams of work; Customer, Innovation, Culture, Business Excellence, and Company.
"Transforming organisation culture requires a significant resource investment, in both time and money". I'm pleased to say that IRT's investment is delivering dividends, both for our organisation and our customers."
Nieves Murray, Chief Executive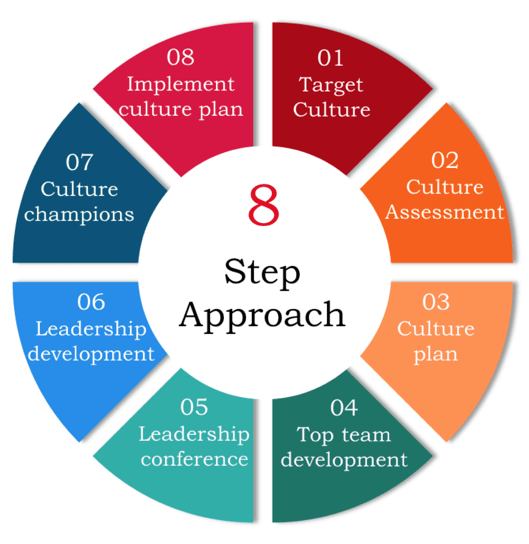 An eight-step approach using Walking the Talk's methodology was adopted:
Target culture definition by the Executive Team.


Culture assessment to identify the strengths and areas for improvement in the current culture.


Development of a culture plan. The plan identified 12 initiatives to address the gaps between current and future culture.


Top team development in the context of the target culture.


Leadership conference for the top 80 leaders.


Leadership development.


Identification and development of a number of culture champions.


Implementation of the culture plan, including definition of metrics and regular pulse surveys to measure change.
The results
Guided by Walking the Talk, the eight-step process enabled IRT to move through a clear coherent journey of culture transformation. Employee communication was critical at all steps. The target culture, key findings of the culture assessment, key elements of the culture plan, and the plan's implementation timetable and progress have been communicated to all employees throughout the journey.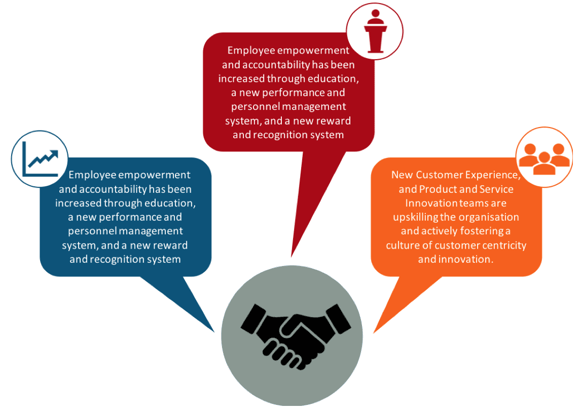 The rapid success of IRT's culture-shaping project was due to a number of critical factors:
The commitment of the senior leadership team
They stayed close to the project and were open to personal change, which provided a positive 'shadow' and inspired a broader behavioural shift.
Critical systems changes
Enabled accountability and provided a strong symbol of the new culture.
A dedicated culture planning team
Culture champions who drove implementation of the plan.