Webinars
We regularly host webinars on culture themes. We are currently in the process of confirming our next webinar.
Culture Clinics
We regularly host breakfast events that will help you understand how culture transformation can enable strategy.

Hear from our experts on culture on how to create sustainable culture transformation to achieve business outcomes. Come network with peers working in culture and strategy.
London - Wednesday, 20th March 2019 (English)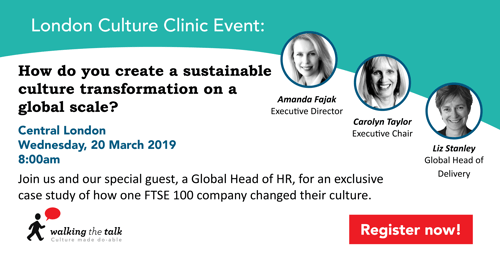 On March 20th we are delighted to be hosting one of our FTSE 100 clients to share their story of culture transformation. We would love you to join us for a thought-provoking session with an Executive Leader on how, with our help, they achieved culture transformation on a global scale.
In the latest of Walking the Talk's Culture Clinic series, we will be showcasing a case study of culture transformation achieved by a multinational leader in Pharmaceuticals, with over 40,000 employees around the world.
Paris - Mercredi le 10 avril 2019 (French)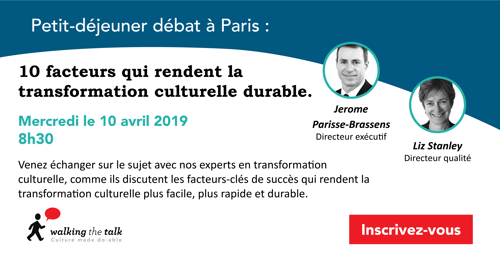 Qu'avons-nous appris au cours des 25 dernières années sur les facteurs-clés de succès qui rendent la transformation culturelle plus facile, plus rapide et durable ?
Quels sont les incontournables ?
Qu'est-ce que les organisations omettent toujours de faire et pourquoi est-ce un risque ?
Quelles sont les clés d'un changement réussi ?
Venez échanger sur le sujet avec nos experts en transformation culturelle. Vous y rencontrerez également d'autres professionnels qui travaillent dans le même domaine.